Introduction
Offshore oil and gas production involves the extraction of oil and gas from often extreme depths under the sea. Land-based drilling is much easier, but offshore production plays an essential role in the world's energy supply. With 71% of the world's surface as water, hydrocarbon deposits are found in larger quantities in the sea than on the land.
Even with new technology in renewables, offshore oil production is likely to continue to increase. Green energy isn't keeping up with the high demand for oil and gas production across the world. Finding a sustainable, suitable, and cost-effective power source is a significant challenge for offshore oil production.
Drilling for oil involves the use of bulky and specialized equipment. The equipment needs an enormous and continuous power supply. That makes power supplies an essential part of the oil and gas industry. Heavy instruments include equipment such as hoisting systems, cranes, turntables, pumps, and large engines. A power supply gets needed for the smooth functioning of machines for extracting and producing oil and is also required to provide employees for their daily needs and use.
Offshore oil rigs also require water for desalination, to power washing machines, process waste, and a power source for cooking. This much-needed power supply in gas and oil fields is significant for the smooth functioning of the oil rig.
Ensuring Powering Supply for Off-Shore Oil and Gas Rigs
The use of diesel-powered generators is the most common method of power supply to the rig. Additional configurations and features get required for stationed offshore diesel generators. The generators are manufactured with materials and coatings that can withstand the extreme temperature along with water, salt, and wind in marine conditions. Diesel and gas generators get used for generating power for offshore rigs.
Oilfield Equipment Used Offshore
The oilfield equipment market majorly includes upstream operations. The primary use of oilfield equipment is the development of successfully explored oilfields. Various applications of this equipment include well completion and drilling. The main functions of oilfield equipment include flow control, pressure maintenance, well intervention, drilling, well logging, data acquisition, well completion, etc.
On account of rapid fluctuations in prices, the oil and gas industry witnessed a significant number of downturns in recent years. A recent upturn is expected to increase the global number of oil wells, thereby propelling the oil field equipment market.
According to a new report by Grand View Research, Inc., the global oilfield equipment market is expected to reach $127.6 billion USD by 2020. Incorporating advanced technology for improved recovery rate, better performance, and higher production is expected to fuel market growth.
The main factors driving the growth of the market are oil price recovery, increased field development activities, number of mature oil wells, and oil exploration. For instance, in April 2018, Carnarvon Petroleum Ltd., a company located in Perth, announced the redevelopment of Buffalo oil field in the Timor Sea after signing the Maritime Boundary Treaty with Australia.
Product segment in the market includes field production machinery, drilling equipment, valves and pumps, etc. Crude extraction, processing, and transportation has extensive usage of this equipment and is also used to perform multiple operations offshore.
Instances of accidents on onshore and offshore drilling sites have generated concerns regarding the testing, production logging, and survey equipment and services. These factors are expected to propel the growth of exploration and drilling equipment. The oilfield equipment also helps operators control borehole erosion and subsurface pressure, reduce formation damage, and optimize drilling parameters.
The proper pipeline transport system is required for efficient energy transportation for cost-effective and safe movement from supplier to end-user customers.  Valves and pumps are required for these pipeline systems, which is driving the demand for the oilfield equipment market. There are various other tools used for removing impurities and harmful chemicals before it's transported to end-use customers or refineries.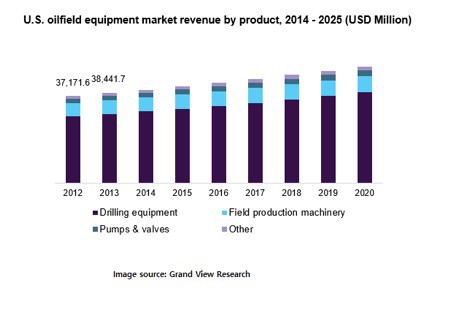 Trends and Advancement in the Market
Leading companies in the market are inclined to invest in technological development to ensure security and safety for equipment usage. That is further anticipated to fuel the global oilfield equipment industry. To meet continued global demand pressures, the oil and gas industry is shifting toward unconventional sources of energy production, which is anticipated to impact the growth of the market positively.
Companies are focusing on innovation to maximize their productivity, which is promoting the growth of the market. Better internet connectivity provides offshore oil rigs improved productivity by connecting to the Internet of Things (IoT). This helps to add internet to physical objects and also add sensors, to measure the flow accurately through pipes.
Various technological advances in well drilling and completion have enabled exploration of new oil and natural gas sources for the energy industry. That has resulted in meeting with the rising demand along with reducing the environmental impact of energy production.
Technological advancements will play a vital role in meeting global energy demand because they:
Enable the discovery of new resources,

Provide access to harsh or remote locations, and:

Help develop vital reservoirs, which were previously not economical to produce.
These have also enabled more oil and natural gas to be recovered from the length of each well. That improves productivity and reduces the environmental footprint of energy production.
The global market has a presence of the number of companies across the value chain. Manufacturers and sellers of oilfield tools include companies such as FMC Technologies and National Oilwell Varco. Other companies involved in extracting and finding crude oil are Schlumberger, Halliburton, and Weatherford International. Some companies who own equipment are engaged in leasing out offshore oil drilling rigs. Major market players include Aker Solutions, National Oilwell Varco, Halliburton, Cameron International, Schlumberger, Baker Hughes, and Weatherford International.
Company Bio:
This article has been written by the team at of Grand View Research, Inc., a U.S. based market research and consulting company. The company provides syndicated and customized research reports, as well as consulting services. To help in making informed business decisions on oilfield equipment market, the team offers market intelligence studies ensuring relevant and fact-based research.
Posted By: