A slice of oilfield history…
Drillers.com was created in 1996 and is the oldest oil and gas jobs site in the world. Since it's inception, it has undergone a few changes and facelifts, but the one that went live on the 26th Oct 2016 is the biggest yet. I am writing these words on that very same date, and this is the final page on a site which is ready for lift off into a new era of data and technology.
This is what the original site looked like: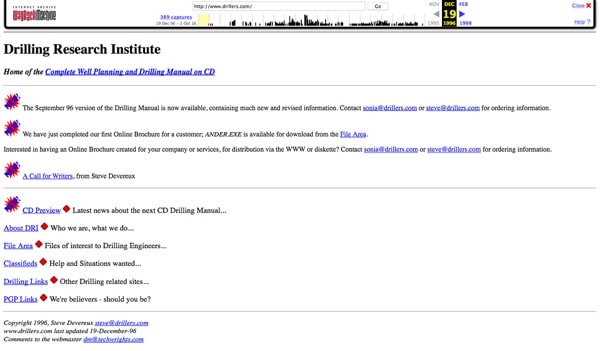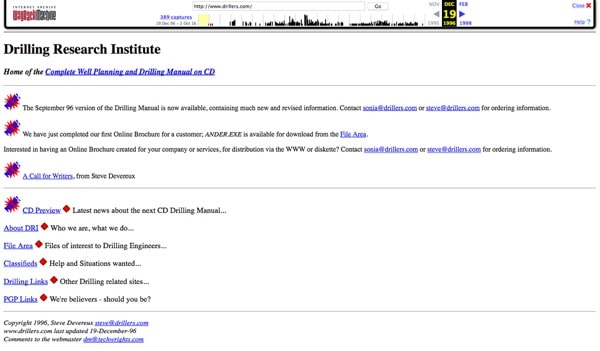 Image credits: Wayback Machine: https://web.archive.org/web/19961219183958/https://www.drillers.com/
5 Years later in 2001: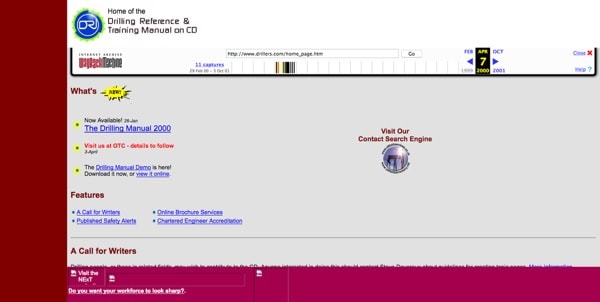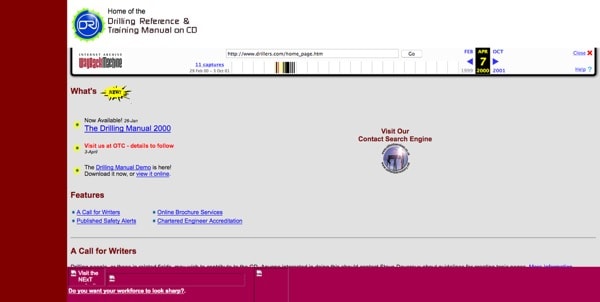 https://web.archive.org/web/20000619095142/https://www.drillers.com/home.htm
2006: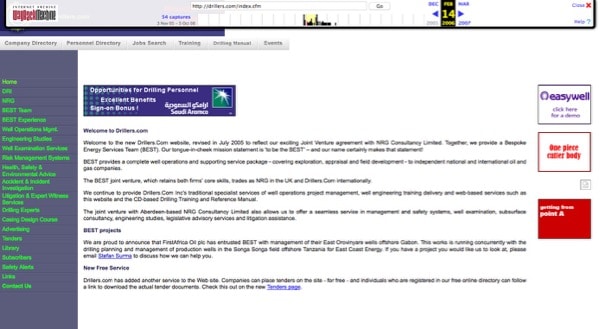 https://web.archive.org/web/20060214043722/https://drillers.com/index.cfm
2011: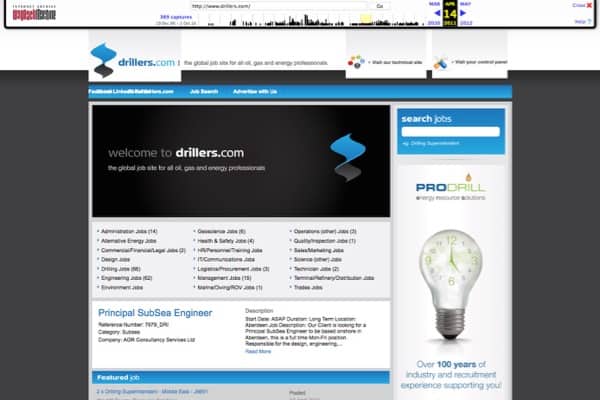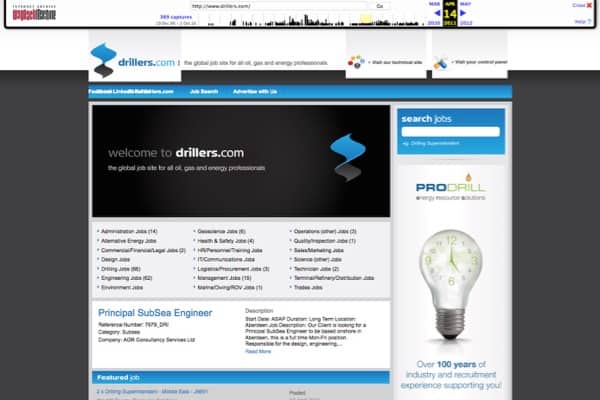 https://web.archive.org/web/20110414095203/https://www.drillers.com/
2016: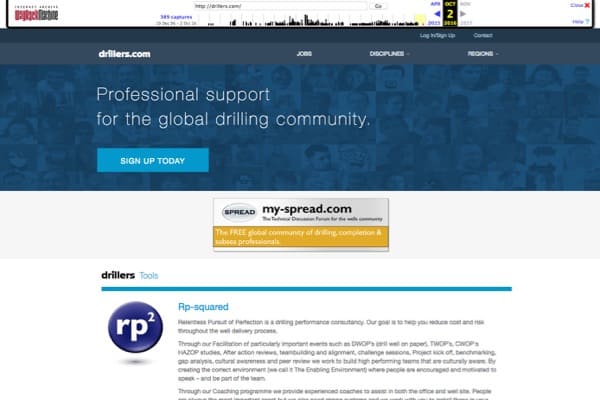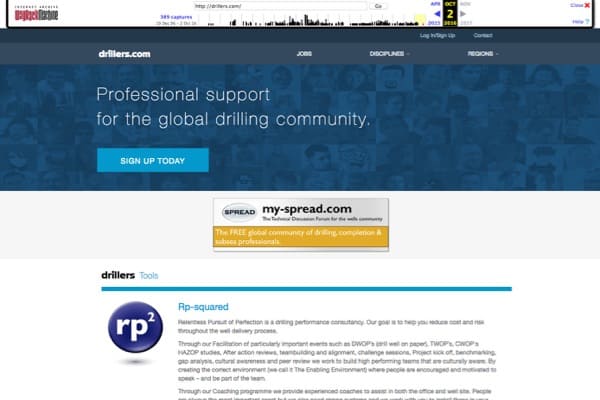 https://web.archive.org/web/20161002192252/https://drillers.com/
The evolution of drillers.com is a reflection of the internet growing up
These past homepage screenshots are reflective of the journey that websites, ALL websites have taken over the years. They evolve and grow along with new technology, style and user friendliness. The NEW drillers.com is going to be the best iteration ever, it is going to keep the best of the old features, and a ton of new ones will be added.
Why am I so confident?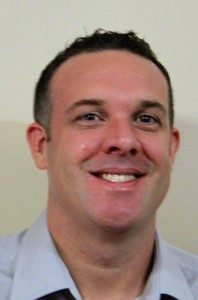 First of all, let me introduce myself…
My name is Jason Lavis and I am the new webmaster at drillers.com.
I am a serial energy entrepreneur who is involved in up to a dozen businesses at any one time.
My two core companies are:
Out of the Box Innovations Ltd. (OOTBI), a web development company that caters to consultants and SMEs in the energy industry.
and
Natural Resource Professionals Ltd. (NATRESPRO), on online manpower company that offers energy companies massive cost, time and stress savings.
Due to the nature of both main companies being internet based, and the outsourcing skills that I have developed over 7 years of learning most aspects of online marketing, I can work on many projects at once.
I am completely self-taught and started my internet marketing career, like many people, by creating WordPress blogs and writing 1-2000 words, almost every day… I moved from weight loss, to finance, to DIY. The required skills are the same, but the products, customers and subject matter changes.
After seeing a huge opportunity in the internet side of the energy business, I have decided to just focus on this niche. Getting 315,000 Pinterest shares on one of my DIY blogs (6 million shares for the whole site) is all very well, but this won't change the world, or create a legacy and better future for my children.
By being part of a modern, vibrant energy industry that is environmentally conscious and technologically fully aware gives me a sense of worth and well being.
OK, you might think that I am 'only' making websites and there are those who literally put their life in their hands while drilling wells…
… But I am a believer in GIGO (garbage in-garbage out) and the better that the online resources are surrounding the industry, the safer and more efficient that it will be. Everyone works together as a team, regardless of job title, level of responsibility or danger.
We all do our best to help. Drillers.com has been a valuable resource to drilling teams all over the world for many years. For example, the mathCAD drilling calculations that were added a number of years ago are still here. The difference is that now they are not password protected anymore, they are a gift to the world and the future, with no barrier to access and minimum friction.
This is an example of the way that we will make drillers.com better. More practical information, to solve more problems, for everyone.
Design aspects:
We wanted to make the new drillers.com look like the old one, but simply a better version. Like the new iteration of a popular car model that is already known, trusted and loved.
One big difference is that the site is now built on WordPress. This is an open source platform that powers 26% of all websites. The popularity is down to the fact that it is so user friendly. I could give you a login and you could write an article just like this, and publish it with no training. There was a time where you would have to pay a web developer a few hundred dollars just to change a few words or an image!
Traditional programmers cost $100-$500 per hour, and are much of a commodity nowadays. It is easy to find programmers and pay them per hour. This wont help your business much if they don't know your industry, its challenges and your customers pain points.
What you need is a marketing artist, a strategist.
Whilst I am not comparing myself to Don Draper (yet!), I am sharing a belief that in web design and online marketing, we need creativity and artistic flair – even relating to a dry topic such as engineering!
Just as a good school or college teacher can make a subject more interesting and create a higher level of motivation and attention from their students, we can share our message in a more compelling way.
We make our websites attractive, intuitive, easy to navigate, and most of all… Helpful, and informative. This is how we differentiate ourselves from the thousands of 'me too' websites that are being created every single day.
This is how we go from being a commoditized/fungible/bland writer, web designer, driller, geologist etc…
To an indispensable linchpin and famous problem solver in our industry!
So, thanks for reading this page, it is not that easy to find on the site, so you are only here if you are really interested, that is doubly the case considering you are now at the bottom of the page…
If you got here through a link from another website, or the search engines, then my 'online omnipresence' strategy is working and that makes me happy to think about.
Want to work with me?
Many sales and marketing people fail because they are afraid to ask for the deal…
Do you think that we can help each other? This could be on a peer basis, an advisory/mentorship role with either of us being the master or student…
Or I could just help you with your online marketing?
Through OOTBI, I only work with consultants and companies in the energy industry. Take a look at some recent projects here, here and here.
I do occasionally help companies from other industries especially if they have a particularly compelling business model, or some unique challenges to overcome.
If you want to share some ideas or interesting problems with me, just drop me an email, I look forward to hearing from you.
Cheers, and I wish you all the best!