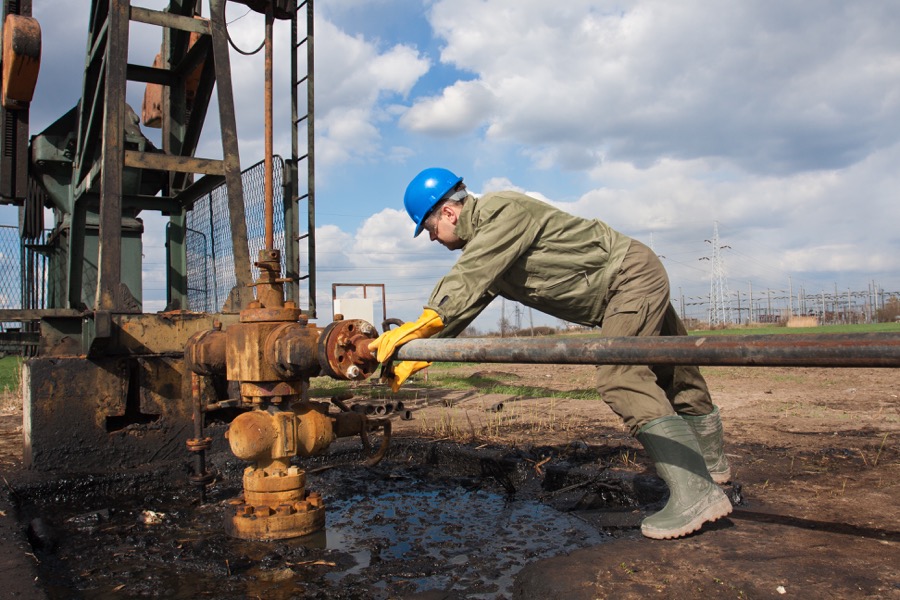 At first glance, a post about oil field boots might appear to be a bit trite, but bear with us for a few sentences. You've probably been involved in many locker room conversations where a workmate has just picked up a shiny new pair of work boots and is keen to show them off.
Since your feet are your connection to the ground, it could be argued that footwear choice is one of the most important in personal protection equipment. There are so many situations where you need to be steady on your feet, for dealing with heavy equipment, slippery surfaces or a sudden emergency situation.
How many accidents are caused by slipping or falling over?
How many of those have resulted in sprains, broken bones or loss of equipment control? So this is an important safety topic, and if you've found this page while searching online for some new work boots, then read this whole article first!
There are a number of important factors to consider before purchasing, and one or two might have slipped your mind:
Is your current or next work assignment in the desert? Or the snow? Sufficient insulation, or lightweight material might be in order.
Do you have unusual shaped feet? If they are extra wide or narrow, have a high arch or are flat, then you ought to consider a physical purchase not an online one.
Will you be working mostly in mud, sand, concrete or on a metal platform? The tread that is non-slip in one situation might not be in another.
Will you be doing a lot of walking, or be stationary, or mostly in one place. Some boots are more flexible and suited for walking.
If it's a new contract, double check to see if your employer will buy boots for you, this will save time and money.
Also, here's the MOST IMPORTANT thing to consider:
Check with your employer!
Your employer might have strict guidelines about what is allowed and what isn't. Different countries also have their own set of rules and regulations. Also, check about the requirements for your specific job role. It could be that lace ups are strictly forbidden, or that steel toe caps are compulsory, even if you're away from heavy equipment!
Some employers have rules that are there for your safety, that might not be obvious. For example, there could be a 12, 18 or 24 month replacement rule. Over time, treads will wear out and a sturdy boot can become slippery, or the waterproof protection could degrade. This means that you ought to keep receipts, not just for the taxman or HR department, but for your own PPE safety. No need to throw the old ones away, but keep them off the rig.
So now the helpful advice is out of the way, we can move onto the drillers.com top 9 oil field boots…
To get to this list, we asked around our network, and came to an unscientific consensus. Feel free to make use of the comments section at the bottom of the page, if you think that some of these shouldn't be on the list, or if we missed some.
Top 9 oil field boots:
(The titles are clickable to go to the company websites, and there are no commercial or affiliate relationships between drillers.com and these manufacturers).
Terra pride themselves in their high performance work boots that are also constructed with safety in mind. With a strong R&D department, and a focus on comfort they should be on your list to for consideration.
Terra have been around for over 40 years, and have a strong presence in the US, Canada and Europe.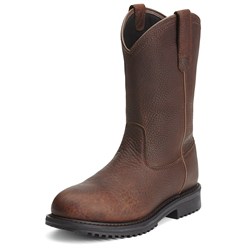 Ariat really focus on the materials used in the design of their work boots.
The best combination of ruggedness, waterproofing, flame resistance, and of course foot protection is their end goal.
This US based firm started with making footwear for equestrian athletes, but their current work boots are a fine representation of that performance based approach.
(Image credit: FROutlet)
Are a US based firm that, established in 2005 are fairly new to the field. You can see that fashion is at the forefront, but the safety selection are high quality and up to the job. Their patented X design shows that that they're not simply imitators, but look to create new ideas that help their customers.
Caterpillar might have been the first boots that you thought of when you started reading this page, you might have a pair in the house. Whether it's the connection with heavy machinery, the smart marketing tactics over the years, or the quality and value, CAT boots had to be on the list!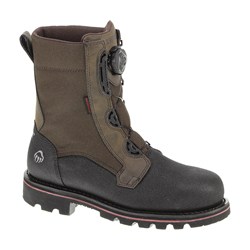 Which came first? The superhero or the footwear manufacturer? US based Wolverine is 130 years old now, and has been making high quality work boots all that time. They're light, and sturdy at the same time.
Their 1000 mile shoe has been around for over 100 years, their current website is cutting edge which shows their continued eye on the details.
(Image credit: FROutlet)
This US based company Specialise in shoes and boots for hunting and working. They're a premium brand and are fairly expensive, but the range of work boots have every type of safety and comfort feature that you might look for.
This company has been around since 1905 and started with the purpose of creating hard wearing and comfortable footwear. Designed specifically for miners, oil workers, and other trades that operated in harsh conditions.
Are a favorite among European oil workers. The French company has always focused on technology and innovation in materials and structure.
Jallatte was the first company to use composites in the toe caps, and have a strong R&D department that pushes boundaries. Although you're unlikely to see a pair on the catwalk, these are some fairly fashionable looking oil field work boots!
Belleville started manufacturing military combat boots during World War 1 so we can certainly say they've got experience. They were commissioned again by the military in World War 2 where they built a reputation for high quality and reliable delivery.
Since then they've moved into sports footwear, and continued to make military boots. They also made the transition from receiving specifications from the military, to innovating and creating new design and performance improvements.
This Finnish company also focuses on innovation and hi tech materials and processes. They make hiking and outdoor boots, but their work boots are some of the best available. They have a full selection of safety and protective features.
Iron Age have been around for more than a century as well, and have a great reputation. They were one of the first companies to implement steel toe caps!
We found this great video from Iron Age, its as stylish as their footwear.
We hope you liked this PPE article covering oil field boots. If you disagree with any of our choices, or think we've missed a good one off the list, add a comment below.
Serial Energy Entrepreneur. Webmaster at drillers.com. Founder of Out of the Box Innovations Ltd. Co-Founder of Natural Resource Professionals Ltd. Traveller and Outdoorsman, Husband, Father. Technology/Internet Geek.