If you're a recruiter or HR person, will you be out of a job soon?
Not because of the crash…We're in the age of ever advancing software capabilities. If you are involved in HR or recruiting, you'll be aware that there's deeper and wider software integration available than ever before.
Software solutions will allow you to post a job across hundreds of platforms, then receive applications and CVs seamlessly. The same software will have CV reading and keyword matching capabilities that are closing the gap between bots… and you!
If fact, unless you have a deep understanding of the industry that you are recruiting for… The bots may already do a better job than you…
Once AI takes off, the 'human' side of recruiting might be better done by software as well.
Candidates who feel let down by recruiters that do not treat them or their data properly will see the satisfying irony here… Thousands of recruiters out of work, and unable to get a job, sending their CV to bots, who simply don't give a damn…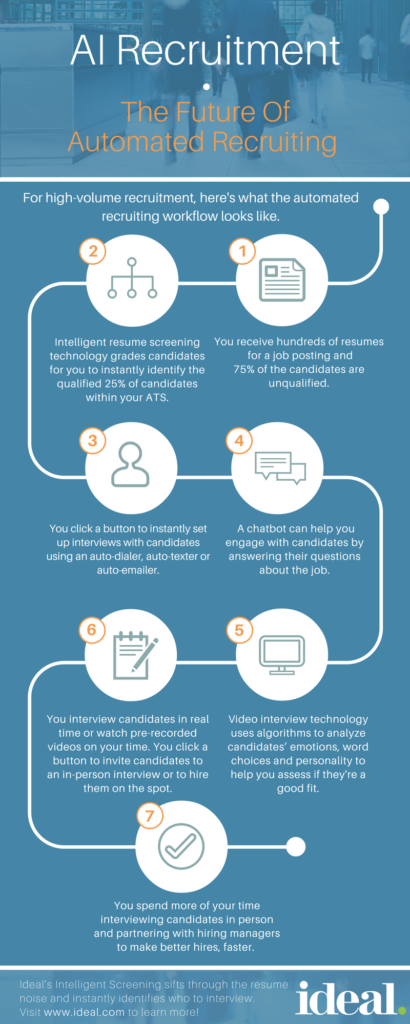 (Infographic, and more interesting information available at: https://ideal.com/ai-recruitment/)
If you're a job candidate looking for your next assignment, is your life about to get better?
A smoother, more accurate and sophisticated process in applying for jobs will help some, and hurt others.
Once automation takes over, there will be winners, for example:
Those of you who have shining resumes and experience that might get overlooked by recruiters who spend a few seconds scanning each CV because they've little time.
Or those who have a very specific skill set, one which is not grasped fully by the typical recruiter, who was selling timeshare last year, and is likely to be selling used cars next year, (it's a transient business).
There will be losers as well, for example:
Those who lie, exaggerate or bend the truth when completing their CVs, either through memory failure, or lack of integrity. (The percentage is higher than you would imagine).
Those who rely on networking to get jobs. If a recruiter, HR manager or Rig manager has a choice between their current position…
… Mountains of unsuitable CVs and a pocket book of people who are a known quantity.
OR
… A choice based on pure and accurate data, AI software that can literally pick the best person for each position.
What will the decision maker do? They are more likely to put forward the best, rather then taking the shortcut of hiring 'good old Fred' who they know won't completely let them down.
In the meantime…
What shall we do? We can't all take an extended vacation at the beach, waiting for the bots to solve our problems, or ruin us…
We make the best choices, for the situation that we are in for the foreseeable future!
If you're a HR manager or recruiter in the oil and gas industry:
This means that you have decisions to make. If you are reading this as a recruiter or HR manager, hopefully I've stimulated a bit of thought. You know that the current system has its limitations, and that by maximising your own efficiency and productivity, you can do the best that you can, with what you've got… Right?
I believe that the very best solution for those who are looking for personnel for a drilling team, is to look at a talent pool that is industry and sector specific.
If you wanted to find a great programmer, you're more likely to find them in a community of programmers than in a generic job board, or even hundreds of auto-posting boards. Does this make sense to you?
Until AI improves massively, which could take 5 years, or perhaps 15, how will you fill drilling job vacancies, why make life hard for yourself? Do you really want to be swimming in candidate soup, publishing your job to hundreds of general job boards? Attracting thousands of bad fit candidates?
If you're a job seeker and you want to find a drilling job, where do you look?
There are plenty of choices online, and due to the downturn there are plenty of opportunities to read and share stories about our job hunting (or candidate hunting) experiences.
One place to see conversations about this is on social media. There are places that aren't really suitable, such as Instagram or Pinterest, but it's possible to find plenty of job adverts, on LinkedIn and Facebook. With millions, or more than a billion people logging on the these two platforms every day, there's plenty of opportunity to see job related conversations happening.
Is this a good place to look for a job, or for a candidate? The feedback that we see is that there's a lot of noise. Candidates are unsure of which job postings, recruiters and oil company accounts are 'real'. After all, anyone can create a company account and post jobs in order to collect data, or worse…
When the reputation, and performance of many online recruiters leaving a lot to be desired…
How do you know which ones never had a job to promote?
Or…
Which ones were real, but couldn't be bothered to even send you a quick courtesy reply?
The anecdotal reports are there for anyone to see, that the noise is high and the quality is low.
A big waste of valuable time for the employers who ask for an application form to be completed and get 4000 'interested, check my profile' type responses.
Heartache for the job seekers who send their details and/or fill in dozens or even hundred's of applications without even a courtesy response.
Where else can you look for a good online job matchmaking service?
Many or most jobs boards are filled with out of date candidate details and there is no filtering and cleaning of the data. Who ends up doing this? The HR manager, rig manager or any DIY inclined person who thought that they could save some money and ended up wasting a lot of time instead.
Many traditional recruiters charge very high rates that are not congruent with lower oil and gas prices. The numbers don't work in an environment of bankruptcy and 'beggar thy neighbour' market share strategies around the world.
General job sites, and sites that offer themselves to every type of staff that might even cycle past an oil company head office suffer from the same noise and quality problems.
Life is complicated enough, why waste time with noise, irrelevance and inaccuracy?
We don't think you should. If you want to get a job done right, deal with the specialists. You want drillers, or a drilling job? deal with industry specific partners.
Whether you are on the HR/recruitment side, or the labour side of the equation. Support industry services by using them, and we can all make each others lives easier.
Serial Energy Entrepreneur. Webmaster at drillers.com. Founder of Out of the Box Innovations Ltd. Co-Founder of Natural Resource Professionals Ltd. Traveller and Outdoorsman, Husband, Father. Technology/Internet Geek.