Aubrey McClendon passed away in 2016 after leaving a legacy as a true giant in the oil and gas industry. However, along with his success came controversy even in his death.
Aubrey McClendon's Early Life
He was born in Oklahoma City, Oklahoma on July 14, 1959. The son of Joe McClendon and Carole Kerr, a niece to former Oklahoma governor and U.S. Senator Robert S. Kerr.
His father, Joe McClendon worked for Kerr-McGee an oil exploration company for 35 years. Robert S. Kerr was a co-founder of Kerr-McGee.
McClendon attended public elementary school and graduated from the Heritage Hall High School as senior class president and co-valedictorian in 1977. He then continued his education at Duke University graduating with a B.A. in History in 1981. He met his future wife at Duke, Kathleen Upton Byrns.
He began working as an accountant but switched to the energy business after reading a Wall Street Journal story about two men who sold their Anadarko Basin well shares for $100 million.
His first energy job was at Jaytex Oil & Gas in Oklahoma City, a company founded by his uncle, Aubrey M. Kerr, Jr.  He worked as a Landman, acquiring leases that allow drilling and oil extraction.
He didn't stay long at Jaytex. In 1982 he left to start his own oil and natural gas business and began acquiring land rights for himself. A few years later, he teamed up with Tom Ward, who had become his partner, created Chesapeake Energy, a new enterprise with a focus on fracking to extract shale gas.
Chesapeake Energy Corporation
In 1983, he teamed up with Tom L. Ward for their first joint venture in oil and natural gas. They founded Chesapeake Energy Corporation in 1989 when they both were 29 years old. McClendon started as the Chairman and CEO while Ward became its president and CFO. Chesapeake focused on fracking to extract shale gas.
Chesapeake's headquarters became a lavish Oklahoma City campus.
In May of 1989, the company began drilling its initial two wells in Garvin County, Oklahoma.
A controversial agreement occurred in 1992 with an initiative known as the Founder Well Participation Program (FWPP). This program allowed its founder, McClendon to invest in Chesapeake wells independently. By 1993, the FWPP became incorporated and formalized into McClendon's employment agreements connected with a Chesapeake IPO. These agreements eventually led to his ouster as Chesapeake CEO.
In 1993, the company went public valued at $25 million. McClendon borrowed funds to acquire land in Oklahoma, Ohio, Pennsylvania, and Texas. He invested heavily in building Oklahoma City's riverfront into an upscale neighborhood. Source
Unconventional Drilling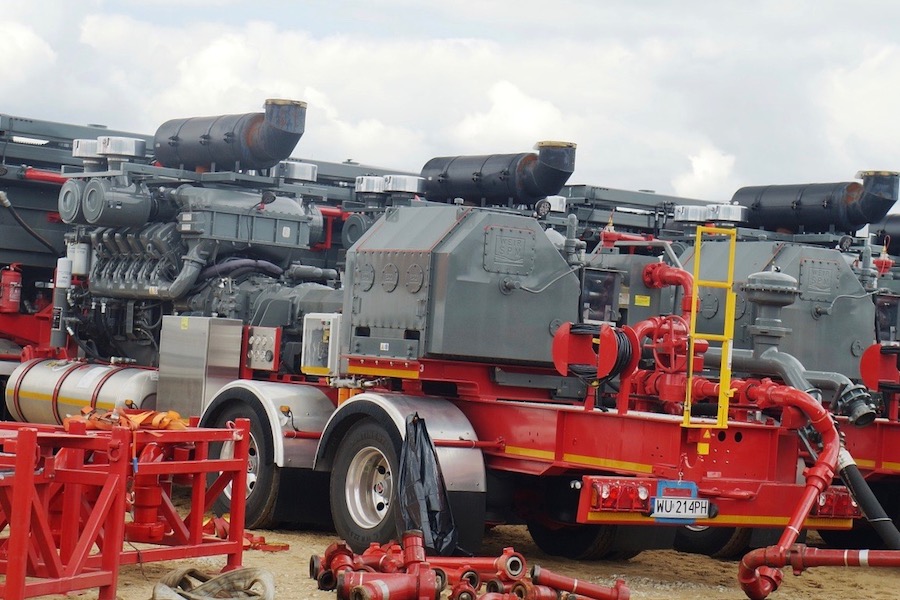 Chesapeake drilled wells in unconventional reservoirs like shales and fractured carbonates.
They became early adopters of hydraulic fracking and horizontal drilling techniques which contributed to their fast growth. Because of these unconventional drilling techniques, McClendon became known as a "visionary leader" in the oil industry.
Chesapeake Rises
After going public, Chesapeake's stock value skyrocketed by 274% in only three years (1994 to 1997), becoming the most successful in the country.
In 2005, Chesapeake became the second largest producer of U.S. natural gas behind ExxonMobil.
Forbes Magazine in 2005 named McClendon as one of the top performing executives in the country because of Chesapeake's success.
By 2008, he became the highest paid S&P 500 companies CEO. His annual compensation package amounted to $112 million.
Also in 2008, McClendon discovered his shares lacked enough value to back a margin loan when he applied with Goldman Sachs and other financial institutions. As a result, McClendon had to sell 94% of his 31.5 million shares.
In 2009, McClendon received a five-year retention contract along with $75 million in bonuses from Chesapeake.
Forbes, in a 2011 cover story, declared McClendon, "America's most reckless billionaire." Forbes claimed that his 2008 sale of Chesapeake shares as "reckless." That same year Forbes named McClendon as a member of its 20-20 Club which comprises eight public companies CEOs who gained yearly returns of over 20% over the last 20 year period. Source
McClendon's Empire Began to Crumble in 2012 and 2013
In 2012, news stories leaked that McClendon ran a hedge fund from his office at Chesapeake and he personally owned stakes in wells which Chesapeake invested in. The 1992 FWPP agreement mentioned above, allowed him to purchase these stakes.
In 2012, McClendon denied being a risk-taking wildcatter by declaring, "If I wanted to always do the most popular thing, then I'd be a follower." He further stated, "The funny thing is that I don't consider myself a gambler at all. A gambler is somebody who just closes their eyes and rolls the dice. We don't do that". Source
From 2009 to 2013, Chesapeake gas production growth went from 5 million to 2.5 billion cubic feet per day. The discovery of large natural gas reserves by Chesapeake helped lower natural gas prices for U.S. consumers. Source
In 2012, Bill White a former Houston mayor and U.S. Secretary of Energy claimed McClendon "at the forefront of those heroes" of the U.S. natural gas industry over the first decade of the 21st Century. Source
However, also in 2012, Reuters claimed that McClendon used employees of Chesapeake to provide him $3 million of personal work. These included accounting and engineering support and repairing his home in 2010. Reuters also claimed he used corporate planes for personal use including fun travel jaunts for his family and friends. This raised questions about conflicts of interest and Chesapeake management business ethics. Source
In May of 2012, a Chesapeake proxy statement recorded with the SEC, McClendon reimbursed the company everything except for $250,000 for its employees' services. However, his employment contract allowed his personal use of the company plane including his family members and guests.
In June of 2012, Chesapeake's shareholders voted to remove two board members. McClendon resigned as chairman but continued as the CEO.
In February of 2013, Dow Jones reported that Chesapeake's Review Board concluded that no improper conduct or improper benefits to McClendon occurred with no increase costs to the company.
By 2013, these news reports stirred up enough controversy forcing McClendon to resign as Chesapeake's CEO.
After his resignation, McClendon retained an option for continuing investments in Chesapeake wells to July of 2014.
American Energy Partners, LP
In April of 2013, McClendon co-founded a private oil and natural gas company in Oklahoma City called the American Energy Partners, LP (AELP).
In 2013 and 2014, McClendon raised equity and debt commitments approximating $15 billion and hired over 600 employees for AELP.
However, oil prices collapsed in 2014 making it harder for McClendon to finance his ventures.
McClendon Suffered Setbacks in 2015
In February of 2015, Chesapeake sued McClendon claiming he misappropriated company records about available lands when he left the company. McClendon defended his actions by claiming he had the right to all company records in his possession according to the separation agreements with Chesapeake.
In April of 2015, co-defendant American Energy – Utica, LLC settled the lawsuit with Chesapeake giving them $25 million and 6,000 acres of land. At the time, McClendon remained in an arbitration process with Chesapeake's lawsuit.
McClendon's Tumble in 2016
From Billionaire to Mere Millionaire
In 2007, Forbes placed McClendon's worth at $3 billion. By 2012, he dropped out of the Forbes 400 list of rich Americans. In 2016, Forbes estimated his net worth around $500 million. Source
McClendon's Federal Criminal Indictment
On March 1, 2016, McClendon indicted by a federal grand jury for antitrust laws violations. The indictment alleged he conspired to suppress prices for oil and natural gas leases he paid by rigging the bids. It also claimed McClendon carried on a conspiracy where two oil and gas companies agreed not to bid against each other to buy leases in Northwest Oklahoma. Source
In addition, the indictment alleged that he orchestrated a scheme between large energy companies to decide before the bidding which ones would win bids. In return, the winning bidder would divide an interest in the leases to the other company. This eliminated open bidding competition.
The U.S. Justice Department claimed their investigation resulted in the first case of federal antitrust laws violated in the oil and natural gas industry for bid rigging and price fixing.
Chesapeake Energy settled the fraud, racketeering, and antitrust violations out of court by paying $25 million to the leaseholders. Source
McClendon denied all charges and claimed:
"The charge that has been filed against me today is wrong and unprecedented, I have been singled out as the only person in the oil and gas industry in over 110 years since the Sherman Act became law to have been accused of this crime in relation to joint bidding on leasehold." Source
William Baer, Assistant Attorney General of the U.S. Justice Department's Antitrust Division responded by declaring:
"His actions put company profits ahead of the interests of leaseholders entitled to competitive bids for oil and gas rights on their land. Executives who abuse their positions as leaders of major corporations to organize criminal activity must be held accountable for their actions." Source
Aubrey McClendon Dies
McClendon never got his day in court as he died the following day on March 2nd, 2016. He was 56 years and left behind his wife, Katie McClendon, and their three children.
He died in a single vehicle only occupant crash into a concrete bridge wall while traveling his SUV at 88 miles per hour.
Due to the immense body burns, identification became difficult. On March 4th, a forensic teeth specialist identified McClendon using his dental charts to compare his teeth.
In June of 2016, the Oklahoma medical examiner ruled the crash an accident. The autopsy report revealed no alcohol in his system. However, an unspecified amount of sedatives and antihistamine found in his system.
Did Aubrey McClendon Commit Suicide?
A week after his death, the Chicago Tribune ran a story about the last day of his life. No emails or phone calls or a suicide note ever emerged indicating suicide.
But, the facts of the lone driver one car crash raise the question. Did he commit suicide?
The Tribune reported:
"He climbed into his SUV and drove off. As he cruised north along a two-lane country highway, he picked up speed, traveling well above the posted 50 miles per hour." In addition, before the police issued an official report, "Their early comments suggest the embattled shale tycoon may have intentionally crashed his car."
The Tribune story also quoted a police officer at the scene of the crash:
"He pretty much drove straight into the wall," police officer Paco Balderrama said shortly after the crash. "There was plenty of opportunity for him to correct and get back on the roadway, and that didn't occur." Source
One must ask. Going at 88 mph on a 50 mph road with sedatives and antihistamine in his system driving straight into a wall with the opportunity to get back on the roadway only one day after being indicted for serious federal crimes…?
Remembering Aubrey McClendon Positively
As mentioned above, many considered Aubrey McClendon as a "visionary leader" and a "pioneer" in fracking and horizontal drilling.
He eventually became the highest paid CEO of all S&P 500 companies.
Forbes named him a member of their exclusive 20-20 Club.
A former U.S. Secretary of Energy once proclaimed him a "hero" of the U.S. natural gas industry.
Oklahoma City raised flags at half-mast throughout the city shortly after his death. McClendon credited with creating tens of thousands of jobs in Oklahoma City along with bringing the Oklahoma City Thunder basketball team. Also, he brought the city upscale dining and shopping venues and contributed to local elementary schools and charities. Source
McClendon: Advocate for Natural Gas
McClendon helped to found America's Natural Gas Alliance (ANGA) based in Washington, D.C. This trade association lobbied for independent natural gas producers. He advocated for expanded use of natural gas in the U.S.
McClendon Opposed Coal Production
He funded a 2007 campaign to use clean-energy activists to oppose the building of 11 new coal plants in Texas. In addition, he donated to the conservationist Sierra Club to fund a "Beyond Coal" campaign. It resulted in preventing more than 150 new coal plants in the U.S.
McClendon Advocated for Fracking and Shale Drilling
Besides advocating for natural gas, McClendon also promoted fracking and shale drilling. In 2010, he appeared on the 60 Minutes TV news show arguing that natural gas was a clean fuel industry that created thousands of jobs.
He also defended the oil and natural gas industry use of hydraulic fracking technologies. He once claimed:
 "We have found something that can liberate us from the influence of OPEC, which can put several million Americans back to work, liberate us from four-dollar gasoline". Source
Remembering Aubrey McClendon Negatively
Reuters obituary for Aubrey McClendon described him as:
"A flawed visionary, McClendon ignited shale revolution, courted controversy."  Source
McClendon and Controversy over the Seattle SuperSonics Basketball Team
McClendon was an original partner in the Professional Basketball Club LLC which owns the Oklahoma City Thunder NBA franchise.
In 2006, his group bought the Seattle SuperSonics from Starbucks Chairman and CEO for 23 years, Howard Schultz.
In spite of initial promises not to move the Sonics to Oklahoma City, shortly after the sale completed, McClendon's group reneged. The NBA approved the relocation.
In 2007, The L.A. Times reported that McClendon told an Oklahoma newspaper: "We didn't buy the team to keep it in Seattle. We hoped to come here." Ten days later, the NBA fined McClendon $250,000 for the comments which contradicted prior claims by his group. Source
Since then, the City of Seattle and its sports fans scorned McClendon and his group along with current aspiring U.S. presidential candidate Howard Schultz.
On January 28, 2019, the Seattle Times reported Howard Schultz first apology to Seattle and SuperSonics fans for selling the franchise to McClendon's group.
On February 1, 2019, the Washington Post reported many SuperSonics fans disrupted and heckled Howard Schultz during a speech he gave in Seattle.
"Green-and-gold-bedecked basketball fans who haven't forgiven him for selling the Seattle SuperSonics to a group that moved the team to Oklahoma City more than a decade ago." Source
Conclusion
Aubrey McClendon a controversial oil and gas industry giant and between the ages of 29 to 56 he made a lasting impact.
Pioneering the modern resurgence of fracking, and building Chesapeake Energy Corporation into the second largest producer of U.S. natural gas in just 16 years.
He orchestrated moving an NBA franchise to Oklahoma City while building an upscale riverfront community and contributing heavily in their schools and local charities. This brought him praise in Oklahoma City and scorn in Seattle.
McClendon became a leader in the oil and gas industry making him a billionaire by the age of 48. But, he lost most of it after the 2014 oil price crash.
Hailed as an innovator and hero to the oil and gas industry. He advocated against coal production in favor of natural gas.
Indicted for criminal bid rigging and price fixing in the gas industry which brought his ultimate downfall in a fiery vehicle crash in Oklahoma City where his life began.
Controversy surrounded his death even though officially ruled as an accident.
Aubrey McClendon remembered as a controversial oil and gas industry giant in life and death.