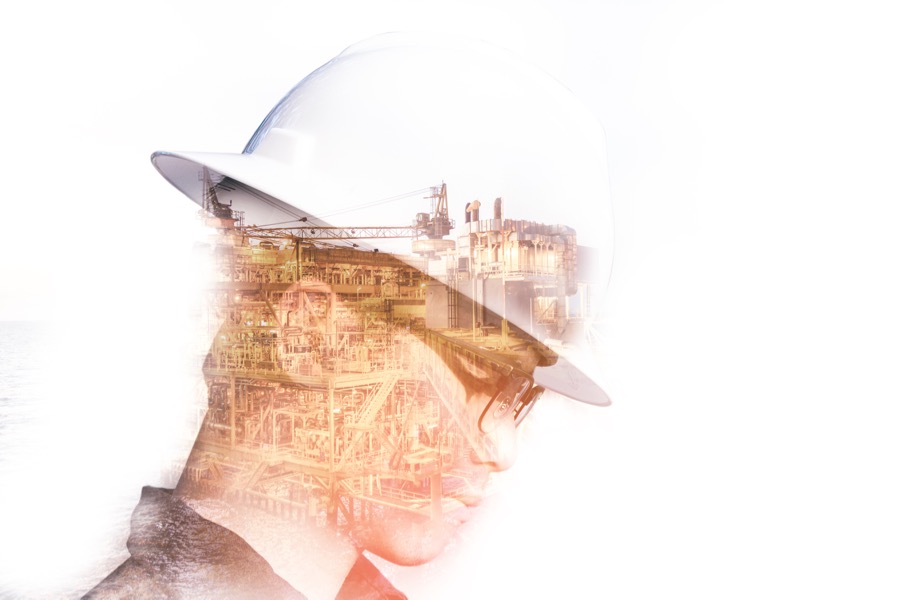 Here are a couple of recent quotes from high level oil and gas executives:
We've looked at our costs very carefully, and decided that any analysis was a waste of time."

"With Oil in an expected range of $40-$60 for the foreseeable future, and our cost per barrel at $55, we've decided to put our head in the sand and hope for the best"
That obviously never happened…
Dynamic cost and budget refinement
The executive management of every single company will discuss cost-cutting measures, and improvements to the bottom line. Top line revenue has a lot of random moving parts such as the oil price, and the size of each new discovery.  Opportunities for reducing costs are important for every company.
Of course, we all know that during good times, waste starts to happen, and gradually filters through an organisation. The best way to reduce costs is to completely change the way that something is done.
When a robot takes the place of a person, or a new technology makes an old one obsolete, then costs come down permanently. When an industry embraces a new paradigm, we often wonder how we ever did it any other way.
The companies that embrace change earlier, get ahead of the competition, and they receive multiple benefits:
The most profitable companies, or the biggest short-term movers court maximum media attention.
These leaders of the pack attract the best staff, investors and partners.
Such a forward-looking company gets chance to trounce the competition and gain market share, until others catch up.
The management team gains real momentum and traction, where the whole organisation benefits.
A company that continues to identify step-changes, new technology and business tactics is likely to become the best in class, or even the next supermajor…
There's a place for computing the cost of paper and plastic cups for the office canteen, then weighing this up against the cost of someone washing the dishes…
But the biggest cost savings come from cutting the biggest costs. If new equipment comes in at half the cost of the old equipment its a win. If you drill in a low tax country then these savings can go straight against profit. If a manual job gets automated then it makes financial sense.
But where are the biggest savings?
When we save TIME…
This is the purpose of an intensive CWOP or a DWOP, such as the workshops carried out by Dave Taylor at Relentless Pursuit of Perfection Ltd (rp²).
If you add up all your costs, from rig rental, to accommodation for transient staff, what is the cost per day? The day cost will vary, but $500,000 – $1,000,000 per day is common. If efficiencies are discovered, and accidents avoided by creating a meticulous plan, what are the savings?
rp² have successfully created programs that have resulted in not just days, but WEEKS knocked off the drilling schedule. Companies who don't do these workshops really do need to count every last paper cup in the canteen!
Dave is a cost-cutting and efficiency hawk, it also helps that he sees different operations around the world, with different companies. Solutions to particular problems tend to repeat over time. A broken down-hole drill bit here, and a logistical shortcut there, and the efficiencies start to accumulate.
One major waste is having underutilized staff and equipment. If you are paying per month, or per year, every day that assets sit idle are a dead cost.
Why don't all oil companies have internal DWOP teams and departments? Because they would experience lengthy idle periods. It's the same reason why much of the heavy equipment is often rented, not bought. It is rented when needed, on demand.
The exact same principle applies to labour. Some labour is needed 24/7 365 days per year. other labour is needed at the beginning of a process (e.g. For the DWOPS previously mentioned) or the end (Completions Engineers).
There are many jobs that apply to this situation. In the past, companies might hold on to staff because they were afraid of them not being available to return. Some people got moved around and utilized for jobs that were beneath them, or not a perfect match for their skill sets.
Now, due to low travel costs, better technology and data, and frankly, hundreds of thousands of people losing their jobs…
… The era of the on-demand oil and gas consultant is upon us
This might concern some, there are certainly arguments against the model. The main argument would be down to job security, how can on-demand workers by a house with a mortgage, with an unreliable work load?
Obviously, at drillers.com we've no control over government legislation, or independent company practices around the world. Oil and gas companies will either adopt the on-demand model more, or they won't. The on-demand model has been in the industry for a long time, when we think about self-employed international consultants, there have always been a percentage of these. We simply expect that the model will grow, and the traditional HR model will shrink in size and importance.
Either way, we can't control industry trends, but we can adapt to them, and so can you.
drillers.com is in the process of creating an on-demand skill pool where each member is vetted and authorized by us. Sometimes you'll only need a specialist for a few days, or a few weeks. In this situation we can supply this expert with minimum fuss.
In an emergency, you might need to fly in an expert who has solved the exact same problem in the past. Rather than taking an existing company man away from another project where they are needed, you can get the required person on demand.
Pay-as-you-go won't work for every job role, or for every person. If you're reading this as a worker, you might decide that you need the job security of a longer contract. You won't join our skill pool. Perhaps you already own your property, the kids have finished education, and you only want to work for short periods, the model will be perfect for you. Perhaps you are the best at what you do, you might find that the on-demand skill pool model will offer you more work than you could handle – just for different companies.
If you are reading this as a management decision maker, I bet that you can already think of jobs that are only needed for short periods throughout the year. There will also be instances that come to mind where flying in a problem solver at a moment's notice could have saved a well… Right? The on-demand model won't work for every job role, but if oil stays 'lower for longer', saving on inactive labour costs is an obvious choice.
If you're a worker, then you'll weigh up the pros and cons, but if you're out of work now, or in the future, then you'll take short term skill pool work.
If you're a company decision maker, you're probably a little undecided. As the on-demand labour model gathers steam, that'll be the time when you either ride the wave, or miss it.
Serial Energy Entrepreneur. Webmaster at drillers.com. Founder of Out of the Box Innovations Ltd. Co-Founder of Natural Resource Professionals Ltd. Traveller and Outdoorsman, Husband, Father. Technology/Internet Geek.