Before naming the best chemical engineering schools in 2019, some viewers may ask:
What do Chemical Engineers do?
Chemical engineers use chemical procedures for finding inventive ways to advance products, therefore, improving our way of life. They also devise methods to convert chemicals and raw materials into better uses. Chemical engineers also produce energy efficient materials.
What Types of Jobs do Chemical Engineers Find in the Oil and Gas Industry?
Chemical engineers get involved with the production of fuels. Chemical engineers also make the equipment used in the production process.
Also, chemical engineers design, construct, maintain and improve large equipment and facilities used for processing and producing oil and gas – either offshore or onshore.
Methods for Determining the Best Chemical Engineering Schools for 2019
Several online publications reviewed and named their best chemical engineering schools in 2019. The leading ones are U.S. News & World Report, the Top Universities website, the Niche website, the College Raptor site, and The 2019 Times Higher Education World University Rankings.
Also, Drillers: "The 10 Best Petroleum Engineering Schools (USA 2019)" provided useful information regarding some of the same schools.
Here's the list in order of rankings:
1. Massachusetts Institute of Technology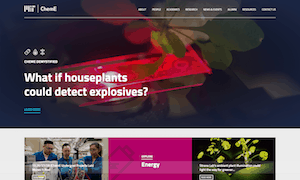 The Massachusetts Institute of Technology (MIT) is rated as the #1 Chemical Engineering course for undergraduate and doctoral programs by most reviewers.
Also, it was rated by Niche.com as the #1 Best College in America. Niche rates MIT with an overall A+ Grade along with A+ for Academics, Diversity, and Value.
Location: Cambridge, MA sitting on 166 acres in an urban setting from a private land grant near Boston.
MIT was founded in 1861 stressing laboratory instructions for applied sciences and engineering.
MIT believes in a diverse community drawing their students from all 50 states and 127 countries.
It's an elite private college with very competitive admission where only 7% of all applicants get accepted. Of their 11,300 total students about 5,750 major in engineering.
Over 94% of their students graduate, with their alumni earning an average starting salary of nearly $80,000. The breakdown includes:
4,540 Undergraduate Students;
5,750 Students (undergrad and graduate) in the School of Engineering; and
11,300 Total Students
The Department of Chemical Engineering offers many courses in Energy Research including Sustainability, Energy Technology, and an Energy Club to interact with faculty and other students and network with the industry.
Tuition and Fees:
$51,830 for the 2019 school year; and
$49,310 average annual financial aid
Getting accepted by MIT requires:
A 4.16 GPA or higher;
A lower GPA requires a higher ACT/SAT score; and
Also, an application of achievements, innovation, and creativity to impress MIT.
Their Office of Undergraduate Admissions provides all the requirements, deadlines, and an online application process including financial aid.
Get admissions information for the Massachusetts Institute of Technology
2. California Institute of Technology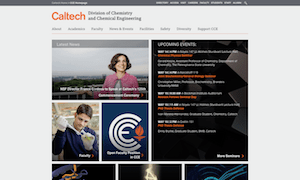 The California Institute of Technology (Caltech) ranks as the #2 Best Chemical Engineering School by most reviewers.
Location: Pasadena, CA about 10 miles from Los Angeles.
Founded: In 1891 with a private foundation grant, and the campus sits on 124 acres.
It's a tiny institution with only 960 undergraduate students. The student-to-faculty ratio of 3:1 is considered very low. Over two-thirds of their classes contain less than 20 students. A high 98% freshman retention rate indicates substantial student satisfaction.
Caltech education emphasizes close faculty/student collaborations, a rigorous curriculum, and small class sizes. Caltech maintains an unusual strict Honor Code for their students. No student takes unfair advantage of another student in all manner of behavior.
Their Chemistry and Chemical Engineering Department offers:
Chemical Engineering;
Materials;
Environmental;
Biomolecular;
Process systems;
Chemistry;
Inorganic Chemistry;
Biochemistry and Molecular Biophysics; and
Organic Chemistry.
Admission to Caltech is considered being very difficult as only 8% of applicants get accepted. Most first-year students ranked within the top 10 percentile of their high school senior classes.
Tuition and Fees: $52,360 for the 2018-2019 academic year.
Financial Aid that's considered very generous is available to all students.
Get admissions information for the California Institute of Technology
3. University of California – Berkeley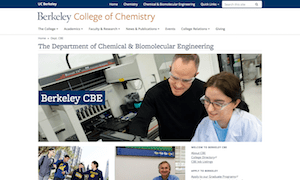 The University of California at Berkeley (UC Berkeley) ranked by every reviewer within the top 3 to 5 for the Best Chemical Engineering School.
Location: Berkeley is considered a suburb of San Francisco, situated across the Bay Area Bridge.
It got founded in 1868 nestled in an urban environment on a 1,230-acre campus.
UC Berkeley is considered a large public university with an undergraduate student enrollment of 30,500. It's a part of the statewide University of California system.
Their Department of Chemical & Biomolecular Engineering (CBE) opened in 1946 and offers:
Electrochemical engineering;
Catalysis and reaction engineering;
Microsystems technology and micro electrics;
Polymers and complex fluids;
Interfacial engineering;
Biochemical and bioprocess engineering;
Synthetic biology;
Molecular simulations and theory; and
Biomedical engineering.
Admissions:  There's a 17% acceptance rate for the freshman class. A student-faculty ratio of 18:1 where 53% of an average class contains fewer than 20 students. 97% freshmen retention rate indicating student satisfaction.
Tuition and Fees: $43,200 for out-of-state and $14,200 (in-state) for 2018-19 school year. $20,900 for the average scholarship.
Get admissions information for the University of California in Berkeley
4. Stanford University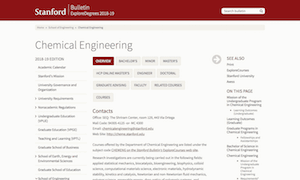 Stanford University ranks #4 for its Chemistry Engineering Department.
Location: Stanford, CA near the Silicon Valley and 30 miles from San Francisco
Founded: 1885 by California Senator Leland Stanford and his wife, honoring their only son, Leland Junior who died 15 years old of typhoid. Officially opened in 1891. Known as the "Farm".
Faculty: 2,220
Students: 16,420 with 7,060 undergraduates and a student-faculty ratio is 4:1 with classes with fewer than 20 students in over 68% of the total.
Stanford's Engineering School includes its renowned Chemical Engineering Program. They specialize in Life, Energy, and Environment with the production and manipulation of chemicals in energy, electronics, medicine, and materials with new properties.
Their Chemistry Engineering Graduate Program focuses on the energy and oil industries where their engineers find opportunities in environmental engineering along with electronic device/materials fabrication.
Tuition and Fees: $51,350 for the 2019 academic year. Nearly half of their full-time undergraduates receive some financial aid. The average scholarship is $50,500.
Get admissions information for Stanford University
5. The University of Texas at Austin – Cockrell School of Engineering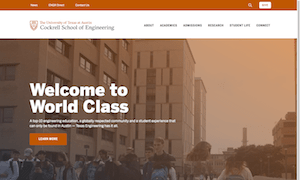 The University of Texas is rated as high as #4 in Chemical Engineering with some reviewers. Its Doctorate program rates #9 Overall Engineering Programs.
Location: Austin, TX.  A public university of 40 acres in the heart of Austin, a city considered entrepreneurial and creative. Expedia named Austin one of America's "Coolest Cities". While U.S. News and World Report proclaim Austin as one of the "Best Places to Live in the U.S."
It was founded in 1883 by the Texas state legislature. The flagship of a state system consisting of 9 universities and six health institutions.
Cockrell School of Engineering offers a Top 10 engineering education. Their Chemical Engineering major combines chemistry with physics and mathematics. Students learn large scale production technology and manufacturing products using chemical engineering. Many Chemical Engineering graduates get jobs in the petrochemical and environmental industries.
40,490 undergraduate students with a total of more than 51,000 make it a huge university. Their freshman retention rate of 95% shows student satisfaction. The teaching faculty numbers 3,000.
Tuition and Fees: $37,480 (out-of-state) and $10,606 (in-state)
Admissions to the University of Texas requires:
A minimum 3.68 GPA;
Plus, an average ACT Score of 29 also helps; and
As for the SAT Score, you should achieve between 580 – 730 in Math and 560 – 680 in Reading and Writing.
Get admissions information for the University of Texas at Austin
6. Georgia Institute of Technology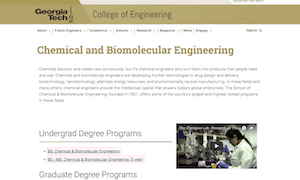 The Georgia Institute of Technology (Georgia Tech) emphasizes research and improving human conditions through advanced science and technology.
Location: Atlanta, GA nestled within 400 acres in the downtown area.
It was founded in 1885 as a trade school eventually growing into a technological university when it changed its name to the present usage in 1948. Recently, Georgia Tech became a national leader transforming industrial economies to information economies.
Over 25,000 undergraduate and graduate student body. A student-faculty ratio of 22:1 includes over 39% classes with 20 or fewer students.
Their College of Engineering houses the Chemical and Biomolecular Engineering School. Their chemical engineers develop frontier technologies in environmentally neutral manufacturing and alternative energy resources. They create new compounds and turn them into products people need and use.
They offer two programs:
BS in Chemical and Biomolecular Engineering with options to specialize in solely chemical engineering of the environment and materials; and
BS/MS in Chemical and Biomolecular Engineering (a 5-year program) where students with a Georgia Tech GPA of at least 3.5 and completed ChBE 3200 can apply for admission.
The admission rate of 23% for its freshman class with a 97% retention rate makes institution appealing.
Tuition and Fees: $12,420 for in-state and $33,000 for out of state students.
Get admissions information for Georgia Institute of Technology
7. University of Delaware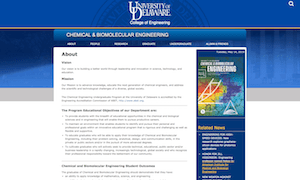 The University of Delaware (UD) is one of the oldest universities in America.
It is located in Newark, Delaware (halfway between New York and Washington, D.C.) with three other campuses in Delaware.
They were founded in 1743 as a private academy with three signers of the Declaration of Independence as members of their first class. A research-focused university which boasts as the first American university to establish a "Study Abroad Program" in 1923. As a result, more than 30% of their students study abroad every year.
Total enrollment averages 24,120 students every year.
Their Chemical & Biomolecular Engineering program offers many options including:
New energy technology;
Environmental chemical engineering;
Materials, polymers, and composites; and
Thermodynamics and transport and separations.
They claim that many of their graduates find careers in the energy field.
Get admissions information for the University of Delaware
8. Princeton University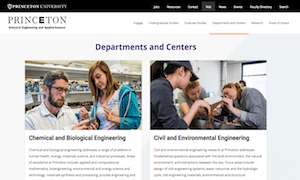 Princeton University a truly private Ivy League institution.
Location: Princeton (formerly Elizabeth), NJ a 30,000 resident community in tree-lined neighborhoods. It's a fast train ride to Philadelphia and New York City.
Founded in 1746 as the College of New Jersey by the Presbyterian Synod. It changed its name to Princeton University in 1896.
Their School of Engineering and Applied Science hosts the Chemical and Biological Engineering Department where students can focus on Environmental and Energy Science and Technology which gas and oil companies alike.
Currently, they enroll 5,260 undergraduate students and 2,845 graduate students. The student-to-faculty ratio is 5:1 – a very low ratio.
Financial Aid:
Averages $55,200 for the Class of 2021 with 60% of their students receiving financial aid.
They also claim that 82% of the recent seniors graduated with no debt.
Also, they boast that 100% of their Class of 2022 earn up to $65,000 towards their tuition, room, and board.
Get admissions information for Princeton University
9. University of Michigan–Ann Arbor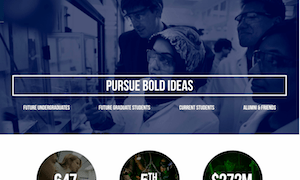 The University of Michigan in Ann Arbor is a public research institution and considered one of the best research universities in America.
Location: Ann Arbor, Michigan near Detroit sitting on 3,200 acres.
It was founded in 1817 as a public state university.
A total enrollment of 46,000 with 29,800 undergraduate students. The student to faculty ratio is 15:1. Over 56% of their classes consist of 20 students or less.
The university averages a 29% freshman class acceptance rate from all applicants. A 97% freshman class retention rate shows student satisfaction.
Their Engineering School currently has 3,636 graduate students enrolled where graduates average base salary is $83,390. Their student-to-faculty ratio is 7:1.
Tuition and Fees: $49,350 (out-of-state) and $15,260 (in-state).
Financial aid averages $19,640 per year.
Admissions for engineering freshman depend on:
The strength of the applicant's college prep background includes the difficulty of courses taken including science and math courses;
Academic achievement record;
ACT or SAT scores; and
Special and unique accomplishments.
Get admissions information for the University of Michigan
10. University of Minnesota – Twin Cities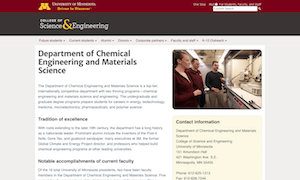 The University of Minnesota in the Twin Cities provides the highest skilled workforce in the State of Minnesota with over 225,000 alumni working in the state.
It is located in the twin cities of Minneapolis–Saint Paul.
It was founded in 1851 as a preparatory school before Minnesota became a state.
The total student population is 31,530 with 16,030 graduate students.
The College of Science & Engineering hosts its Department of Chemical Engineering and Materials Science that prepares its students for careers in Energy. The Engineering Accreditation Commission ABET accredits their Bachelor of Materials Science and Engineering (BMatSE) and Bachelor of Chemical Engineering (BChE) programs.
Their Chemical Engineering students choose what to specialize in from 14 areas, such as:
Energy;
Materials Processing;
Materials Theory;
Systems Engineering; and
Transport and Fluid Mechanics.
Students can also receive funding and grants from the U.S. Department of Energy.
Tuition and Fees: $28,000 for in-state residents and $45,100 for non-residents.
Get admissions information for the University of Minnesota
Conclusion
Chemical engineers play a big part in producing fuels and making the equipment used in the production process. They also create improvements and maintain production equipment.
The Best Chemical Engineering Schools in 2019 listed above pave the way for a bright and lucrative future in the oil and gas industry.