Tesoro is a Fortune 100 company that operates 7 refineries in the United States. The San Antonio-based company is set to release their quarterly report to shareholders in the next week, where they're expected to announce a loss of $0.18 per share.
But the company's moderate losses have to be put in context. Tesoro as a whole is growing, and they're hiring engineers and workers around the country. They've got federal approval to buy out Western Energy for $4.1 billion, and are looking to expand their refining capacity as oil prices continue to recover.
If you're looking for a refinery job right now, here's why you might end up as Tesoro's newest employee.
They're Building in the Right Places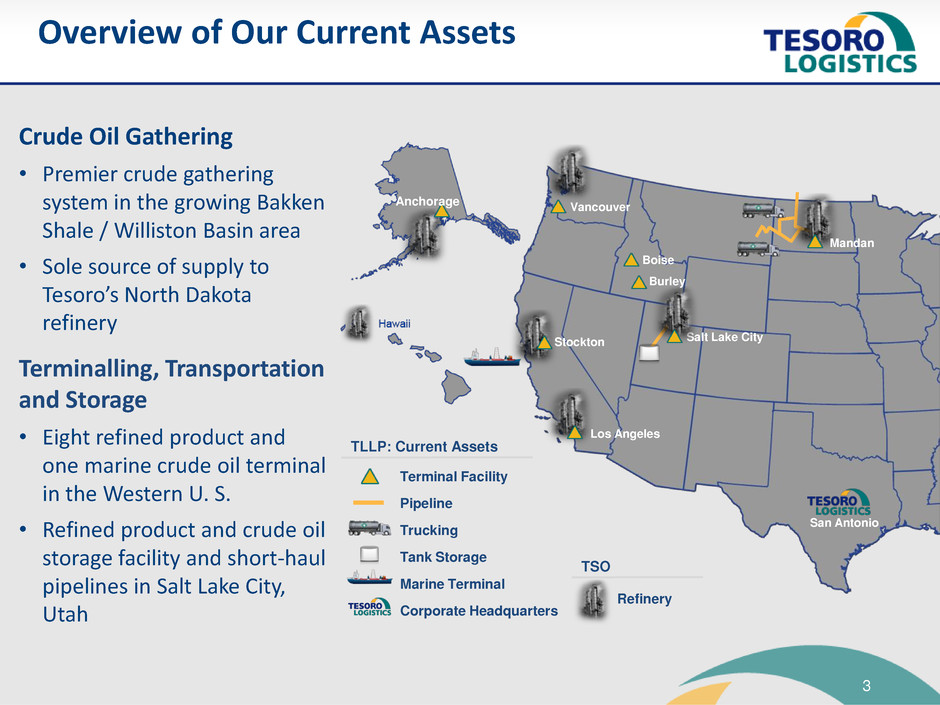 One of Tesoro's biggest strengths is the location of their refineries. Through a mixture of luck and planning, the company is well-positioned to refine tight oil.
Since most of America's output in the lower 48 is driven by fracking, Tesoro's west coast refineries near the Permian, as well as their North Dakota property located in the Bakken play, crude oil headed to these refineries need a minimum of transport.
Not having to wait for their feedstock means that Tesoro has tighter controls over refinery supply, plus it helps the company to minimize their shipping costs.
All of that adds up to a better balance sheet for the company, which is allowing them to expand their output and hire new workers.
They're Vertically Integrated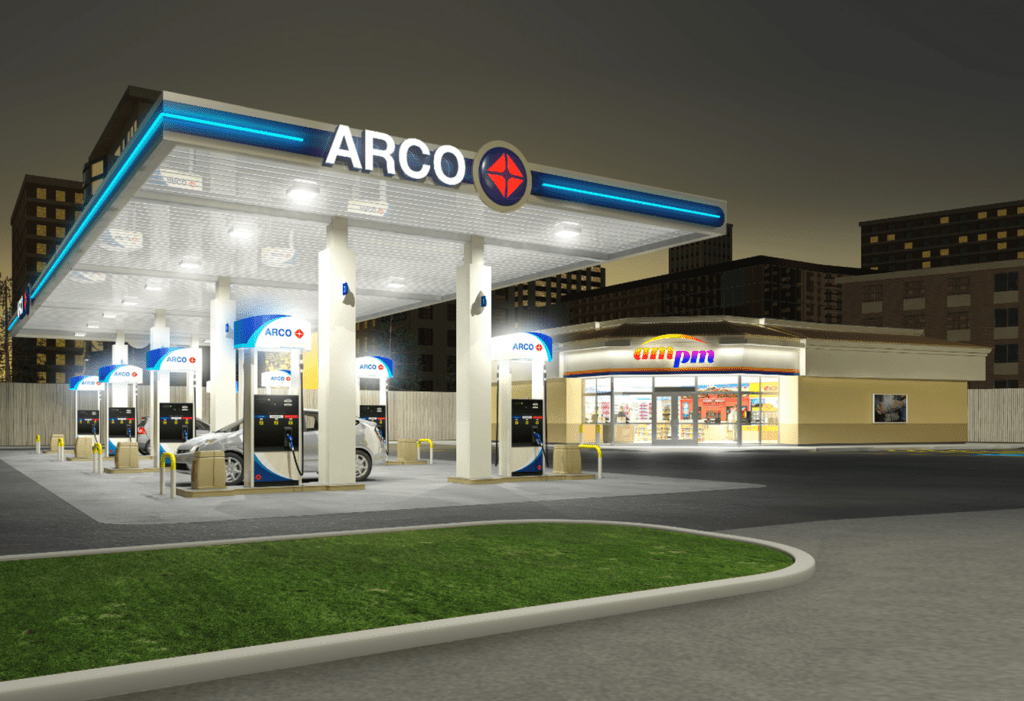 One of the key reasons that Tesoro has been able to weather the storm better than other refineries is their vertical integration strategy.
Tesoro owns and operates gas stations and fuel storage facilities, in addition to their refineries. The granular control over the supply chain that this gives them has enabled Tesoro to keep a tight control over their costs.
In the refining segment, margins can be extremely thin. Tesoro's ownership of gas stations and depots mean that they can squeeze every dollar out of their refinery output.
Many of the costs that they do pay are just shifted around to their subsidiaries, so the company effectively pays itself for many services.
Tesoro's subsidiaries are at the heart of their operation. The company formed Tesoro Logistics in 2011 as a limited partnership. Tesoro Logistics handles much of its parent company's storage and transportation needs, and operates natural gas processing facilities in its own right. Over the past 5 years, it's grown into a billion dollar company.
Other subsidiaries and assets include Shell, Arco, and USA Gasoline filling stations.
Most recently, the company has agreed to acquire Western Energy in a deal that has regulatory approval but is still ongoing.
They're Losing Less Money than the Competition
It's no secret that the oil and gas sector has been hit hard over the past year. Plunging prices and falling demand have taken a toll on some of the industry's biggest companies, and Tesoro is no exception.
But when you look at the bigger picture and compare hard numbers, Tesoro is doing better than most refiners. They aren't the biggest, but they're the most efficient, and that has paid dividends.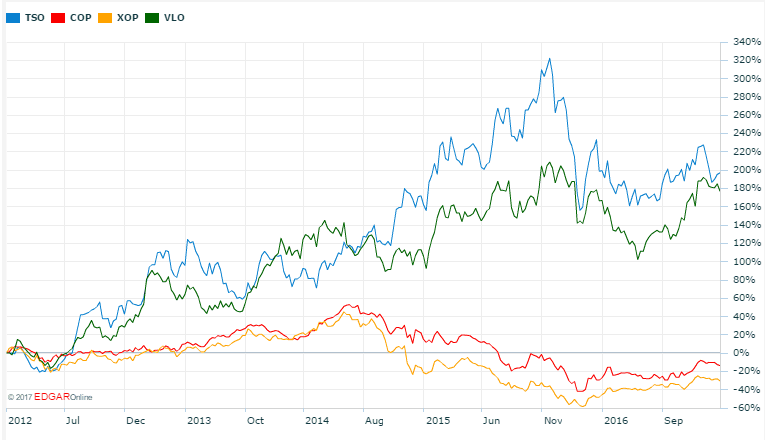 It's easy to see in the above chart that Tesoro (TSO) was affected less by falling prices, and managed to rally and recover faster than their competitors.
Tesoro has also seen dramatically rising revenues, in contrast to many other oil and gas refiners. They've managed to quadruple net income since 2013, which has helped them pay down debt and make acquisitions without over-leveraging themselves.
They're Growing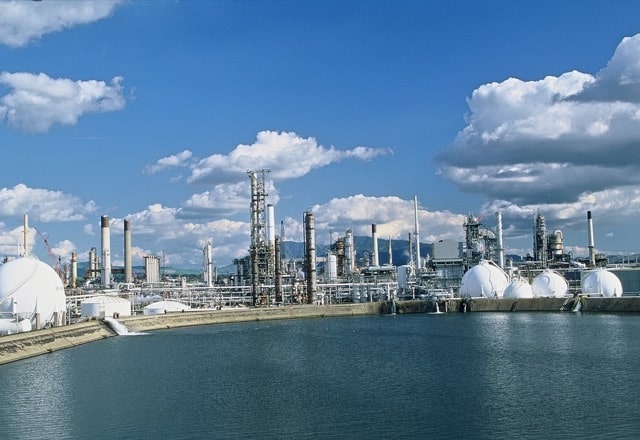 With the recent acquisition of Western Energy, Tesoro has shown their commitment to continued growth. The company has added thousands of employees over the past 5 years, with the full count sitting at over 6,000 workers, managers, and engineers currently working at Tesoro.
In addition to adding employees, Tesoro has also acquired new refineries. Many of their properties operate under their subsidiaries, but they have taken on new holdings directly too.
They have acquired two large California refineries since 2013, and built one in North Dakota.
Since 1998, Tesoro has increased their refining capacity nearly tenfold, from 72,000 barrels per day (BPD) to more than 650,000 BPD.
By continuing to grow, Tesoro has created jobs and opportunities for tens of thousands of workers since their founding.
Tesoro is Hiring While Other Refiners Can't
Through their strategy of careful acquisitions and vertical integration, Tesoro remains profitable and growing while other refiners struggle.
In a market that has seen an overall decline in shareholder value of -20% since 2012, Tesoro has grown their share price by 200%. Their well-placed refinery assets and hundreds of filling stations helped the company weather the worst oil price collapse since the 1980's and come out on top.
Jobs in the oil and gas industry are finally beginning to come back, and the companies that did well during the downturn will be able to offer the best benefits and salary during the recovery period.
The energy workforce needs more companies like Tesoro if workers are going to continue to thrive and build their future by meeting America's energy needs.