My Spread is the worlds leading technical forum for drilling professionals. Members include many of the leading engineers, geologists and project managers in the oil and gas industry. The site is free to use and offers a 'meeting of minds' to solve any drilling problem.
11 years, 2000 members, 1000 questions and 4000 answers...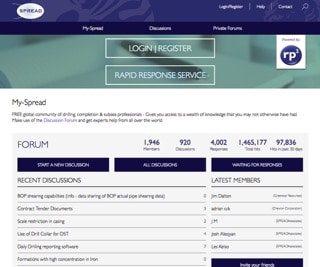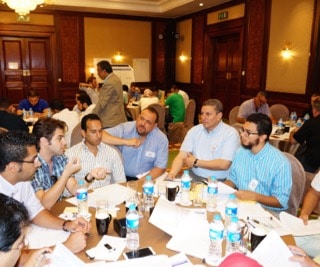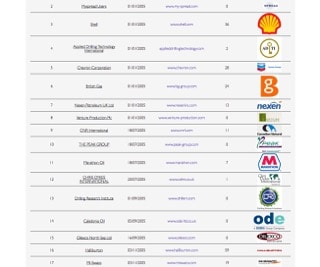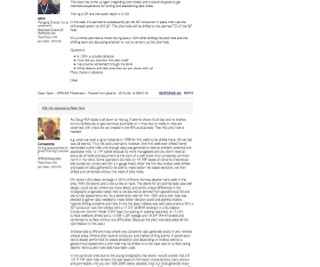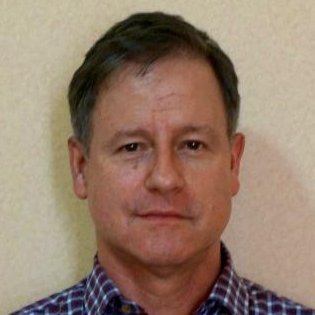 Owner & Managing Director
Dave has worked with most of the major drilling companies in the world to help them improve their wells performance. By using proprietary training techniques both on-site and off-site he creates measurable improvements on a cost and time basis. Over the past 20 years Dave's aptitude for this task has earned global recognition as one of the leaders in this role. He has taught these techniques to his team of performance consultants. Dave is also the owner of Drillers.com and My-Spread.com.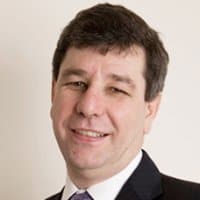 Partner & Creative Director
Scott spent 30 years in leadership positions in the highly competitive metals & manufacturing industry. With a long track record of cost cutting and performance enhancement for companies such as British Steel & Corus, he joined rp² in Jan 2014. Bringing 'fresh eyes' to the Oil and Gas business, Scott is integrating some techniques that he has developed in his previous career. With an injection on creativity and flair he aims to build on the good work that rp² has done.
SPREAD, created by the people behind Relentless Pursuit of Perfection and drillers.com...
"I have also attached a couple of thank you notes and letters that were sent at the end of the WOS well which sums up the feelings of the team and what was achieved. Importantly rp² were integral to the team culture we set up and the creation of the enabling environment which allowed us to deliver this outstanding result."
Peter Greaves
BG HPHT Wells Team Leader
"The optimizations included 5%-10% reduction in procedural efficiency timing for riserless drilling, and several $MM savings in offshore input to execution plans."
Rob Munger
Well Operations Manager, BP Egypt
My-Spread, also known as SPREAD, was created in 2005 by Dave Taylor, the owner of Relentless Pursuit of Perfection which is the leading performance consulting company dedicated to the Oil and Gas Industry.
The purpose of the forum was for drilling professionals to collaborate and help each other solve problems together. The forum has always accepted people from all countries and all companies.
Over the years, My-Spread has built an elite user network of active industry veterans who together can answer every single drilling question that you could ever imagine. New users come to the website because they either have a problem, or want to help others.
Some users are people who are less experienced who have drilling problems to solve. There are others who rarely have an oil and gas related problem but enjoy giving back to the industry for the betterment of everyone.
Regular contributors have offered feedback as to why they enjoy getting involved in the SPREAD forum. Some have had experience of disaster situations, feel blessed that they are still with us, and want to pay this good fortune back. Some enjoy the thanks and appreciation that they get when they come up with innovative solutions and show their expertise. There are others who want to keep their grey matter active even when they might be retired, or now in a different section of the industry.
Most engineers find that they prefer to solve drilling problems rather than crossword puzzles!
The people who contribute most to the forum do it for all these reasons, and more. The people who ask the most questions, are also very appreciated, we realise that they are simply less experienced. In fact the active question posters, and the active responders are effectively the same people, just at different stages of their career!
My-Spread will help to fill knowledge gaps during 'The Great Crew Change'
There has been a massive informational value exchange over the past 11 years that my-spread.com has been online. The countless solutions provided to real work place problems have prevented accidents, saved months of idle drilling time, saved jobs, and possibly lives.
We all know about the 'great crew change' and the knowledge gaps that occur due to demographic and economic cycles. My-spread.com is in the position be part of the solution to this knowledge gap in the future.
After all, there is no resource on the web quite like it…
The SPREAD team will continue to innovate and provide more value
All of the best companies and organisations stay up to date due to continued innovations…
SPREAD have now created a rapid response service that can be found right on the website. All experienced drilling workers know, no matter how careful, skilled and diligent we are, we will experience emergency situations out on the oilfield or rig. Very often, time is of the essence, and finding a solution the next week, or even the next day will not be fast enough.
Just like an ambulance service, we hope we never need it, but we need to have it.
The new rapid response service will allow you to log on, pay a nominal $1000, then have your question sent out immediately to around 2000 forum members. (Normally the alerts go out every 48 hours)
In addition, your post will ALSO go to a hand picked selection of the best problem solvers on the forum. These are people that have 20-40 years of experience, and have proven themselves over the years, by answering dozens, or even hundreds of questions.
A quality response might come within minutes, but if it takes more than 8 hours, you will get your payment credited back.
Your company and superiors are likely to see you as a solid leader, someone who can stay calm under pressure, and work though the challenge quickly. Little do they know that you have effectively got the most experienced and knowledgeable team available to you. Not just the best in the company, but the best in the world!
The value to the person asking the question is clear, it can be the difference between success and failure of a project.
The website will now start to generate an income (after 11 years), but more importantly this will be an income that can be invested to keep my-spread.com modern, up to date and feature full. On top of that, the website stays online, helping thousands of up and coming drillers, the next generation of experts.
This means that the forum remains completely free to join and use. This will allow everyone to give and receive value, without any less favorable monetization methods such as annoying adverts, pop ups or sales pitches.
We hope that you use this emergency response service if there is ever an urgent need. At the same time we hope there never is!
Contact Relentless Pursuit of Perfection Ltd.
Did you know that the SPREAD drilling forum is free to use, but has premium features and options? For example, you can create a private forum for your company, hosted and maintained on your behalf.
There are also advertising options that reach a very close knit, active and niche sector.
If so, then fill in this web form and a company representative will be in touch with you as soon as possible.
In the message box, please indicate the reason for the enquiry in simple and precise terms.
Privacy notice: Rest assured that only up to three integral personnel at Relentless Pursuit of Perfection Ltd. will see your contact details. They won't distribute these details, or add you to any mailing list without your explicit additional consent.