Phone:
00 44 (0)1224 973520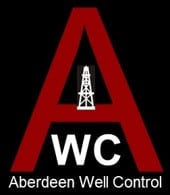 Aberdeen Well Control (AWC) is a very diverse training centre, who aims to offer its clients and candidates a quality service to suit client specific and individual requirements. We pride ourselves in having extensive industry experience that allows us to relate to our clients and candidates, through offering a holistic service based on first hand operational awareness.
We offer:
Pre-Spud Presentations, Hazards/Indicators/Mitigation
HPHT Well Control
Stuck Pipe Prevention
Well Control Training
Introduction to Well Control
Introduction to Drilling Operations
Well Intervention Pressure Control
Tailor-made client specific training courses and well control simulation
On The Rig Training and Mentoring
Training can be carried out at your choice of location (Local/National/International)
At Aberdeen Well Control we think that it is extremely important for first time candidates to get the best foundation in training they can, eliminating misconceptions, and forging a good grounding to develop on.
Although there are online courses which may be more convenient, we believe that a classroom led training for this course, allows candidates to bounce off of the instructor, encouraging classroom discussion and ultimately resulting in better knowledge retention and understanding.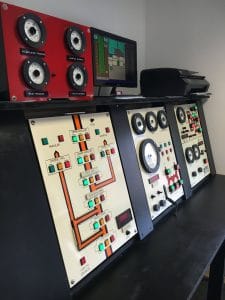 The Well Control Simulator is a Computer Systems International CS-1 Drilling Well Control/Intervention Pressure Control Simulator, and can interchange between a Subsea BOP Panel, Surface BOP Panel, and Production Tree Panel, which allows multiple simulator training options.
Our centre is very modern and spacious, on two floors, with wheelchair access and facilities, has good parking within easy reach of railway and airport links and not too far from Aberdeen city centre.
What our delegates say:
"Excellent two-way conversations, and clarification on any questions asked"
" Instructors were professional and willing to assist on any points raised"
"Instructors were well spoken and easy to understand""Instructors had excellent knowledge and encouraged candidates to participate and discuss"
"Good sized classrooms, good training equipment, and staff had excellent attitude"
"Experience was great, easy to understand explanations which helped knowledge retention, Instructors/Staff had friendly attitude and I was made to feel welcome"
"Thanks for the learning experience and the subsequent passing of my recent IWCF WIPC level 4 course. The explanations and illustrations were very in depth and your facility was very clean and comfortable and equally as important, competitively priced. I would recommend your school to anyone"
With an excellent pass rate and experienced trainers, we look forward to welcoming you to Aberdeen Well Control.